The "Asociación Waldorf Sevilla Girasol", started developing the project on February 2012, in order to:
 
Put into practice and expand the methodology created by Rudolf Steiner, at the beginning of the XIX century, also known as Waldorf-Steiner Pedagogy.
Promote this non-profit organization in order to create a kindergarten, a primary and a secondary school following this pedagogy, approved by the Spanish Education Ministry.
Promote and support other initiatives inspired on this Waldorf Pedagogy.
On the year 2013, we opened the first playgroup in Seville, with five kids. Two years later, this group has grown up, we have more than twenty children and two teachers. We have successfully opened the first official kindergarten in Seville certified by Junta de Andalucía (See BOJA, 28th dec. 2015)
We have been organizing different speeches, and workshops related to this pedagogy, for parents and educators, such as "Conociendo a nuestros niños" that takes place at least three times during the year, also a playgroup and a kindergarten for kids from 2 to 6 years old, as already mentioned, music, colour and movement workshops, for kids, parents and educators, markets where our Waldorf toys are shown, made by our kids or workshops to show the way we make these toys with natural materials and lots of love.
The association consists on a group of parents who has been looking for a different and a better education for our children, and who has got involved in the creation of the first free Waldorf School in Sevilla.
How do we work?  One day in a Waldorf kindergarten
RHYTHM

This is one of the most important issues in Steiner´s pedagogy, as every day in a Waldorf school is organized following the same patterns. The same things take place at the same time every day, giving our children confidence and a feeling of routine. A daily rhythm alternates carefully between expanding and contracting activities, helping to situate them in their time and place, and giving them the balance to grow up in a healthy way.
Each day during the week has a specific activity, so Mondays they paint with watercolors, on Tuesday they bake their own bread, the day after they prepare a vegetable soup, on Thursdays our children paint with crayons or mould with bees wax, and on Friday they work in the garden.
Every season has its peculiarity, and in Waldorf schools we have a "Nature Table" which shows the rhythm of the year, with its changing colors, and little characters, such as gnomes that help the trees and flowers grow up, and also the different festivities each year: the Harvest Feast, Martinmas Lantern Walk, Advent Spiral, etc.
FREE PLAY
Free play is itself a current topic, and the most important on Waldorf Kindergarten. It is a way to explore the environment, and a mean to understand their cultural background; it helps to dominate their movements, their balance, creativity, imagination, and also their mood, finding their own mode of expression. It also allows the emergence described on pre-school programs, such as language, as verbal interactions is ever present, social skills, emotional development, cognitive development, by playing with undefined toys or objects, and personal development.
Free play is more than a game for our children; it is their "duty".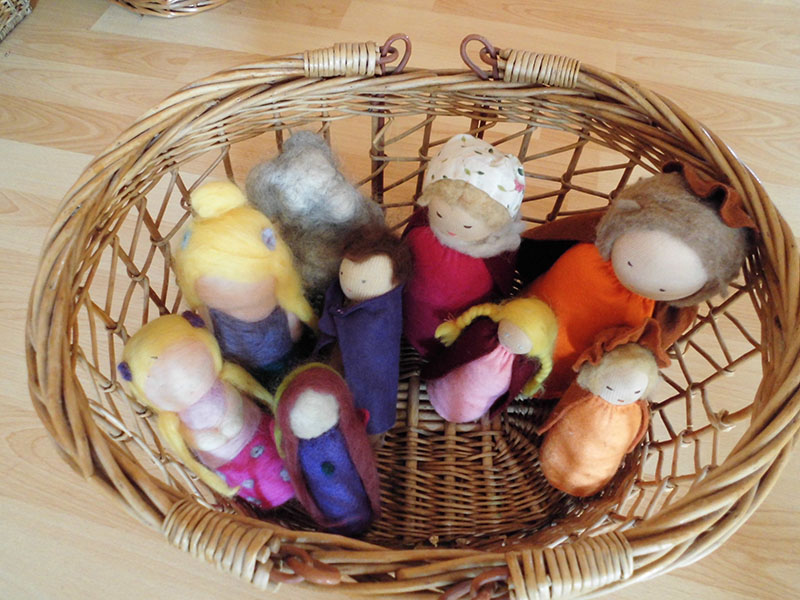 TOYS AND TOOLS
Waldorf toys are quite different, they are basic and undefined, so that the kids can develop their imagination and inner activity. Apart from that, we use specific, natural, high quality materials,  such as wood, wool, natural fabrics dyed with ecological tints, bees wax, cotton fabrics, silk, and also wood, branches, fruits or stones, children take from their outings.  They are made by their own teachers and parents, and sometimes in front of them, so they can appreciate their value. Most of them are rag dolls, animals from their environment made by wool, cars and lorries made by wood, and wood pieces to make roads, tracks, bridges, etc.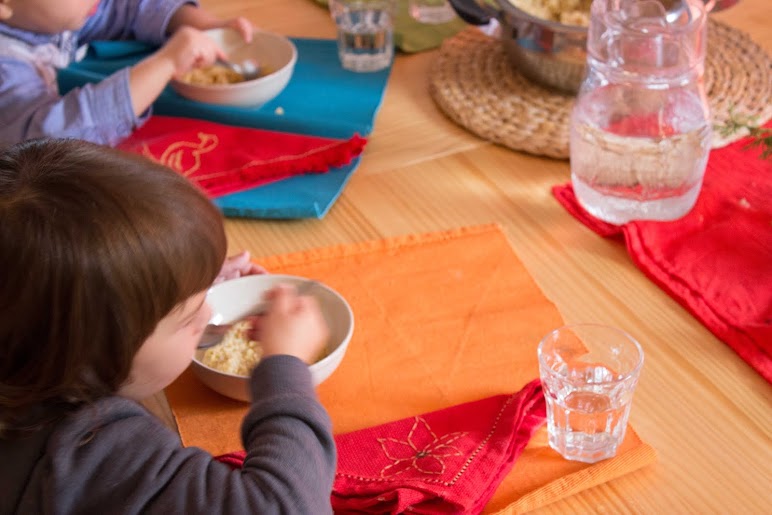 BREAKFAST
During the free play inside of the classroom, Waldorf teachers prepare breakfast, sometimes even with the help of our children. The sense of smell is working at that time. The food they are offered is ecological, made by whole wheat, rice, repeated everyday of the week; Mondays they eat rice and fruit, Tuesdays and Thursdays fruit and whole meal bread, Wednesdays vegetable soup, and on Fridays they eat oatmeal. Our children share their food, and help setting and cleaning up the table, which is an important activity as well.
ARTISTIC ACTIVITIES
Everyday our children do a different activity as we mentioned before, such as painting with watercolors or crayons, moldings with bees wax, kneading the dough to make bread… but all these activities take place in an artistic way, which helps develop the sensitivity in our children, together with the development of the senses itself.

MANUAL WORK
Kindergarten children learn through imitation, that is why our teachers work in front of them, preparing the objects they will need for the monthly festivities, such as lanterns for the "Lantern Festival", painted eggs for the Easter celebration, butterflies in spring time, etc… All of the activities have a meaning and are useful for them.
SONGS, RING-A-RING-A-ROSES, FINGER PLAYS AND ACTION VERSES
All human beings are musical beings. Folk music and music in a major key, pentatonic mode, together with verses and finger plays take place in our kindergarten to accompany our children and bring the appropriate "soul food". Music has its foundation in the spiritual realm and requires a human being to bring it into physical manifestation, that is why it helps children to be aware of their bodies and develop also their sense of rhythm. There are different songs specific for every season, and children perform them also on the celebrations along the year, they help to capture the passing of time.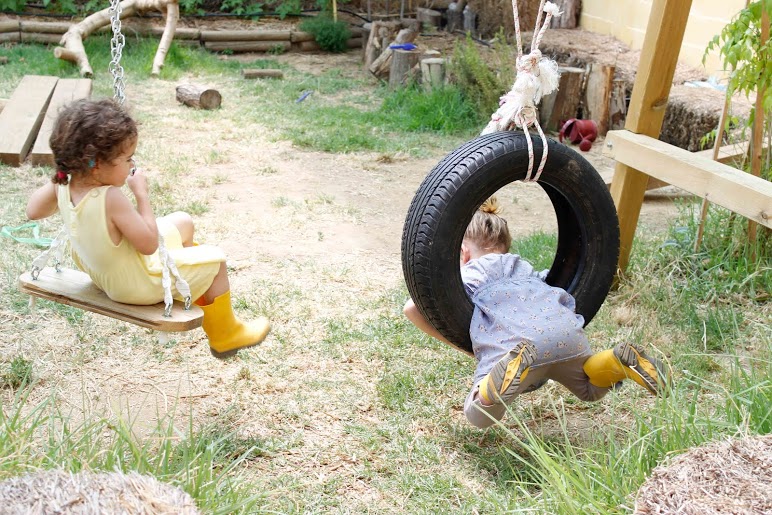 PLAYING OUTSIDE
Free play, as we mentioned before is one of the most important activities in Waldorf kindergartens, and our garden is a wonderful place to play and explore a wide universe. Our garden is covered by soft grass, and they have a swing to fly, a big sandbox to dig and build castles, fruit trees to play hide and seek, trunks and boards to make mountains to climb and crawl, bugs, birds singing, rain…  They play with the four elements, earth, air, water and fire, which help them to develop their motor skills.
FAIRY TALES
It is the best way to end a day full of activities. They have an enormous and irreplaceable value in the life of a child. Storytelling brings a living imaginative aspect to the lessons and meets the children where they are developmentally. Children live in imagination and can digest and take in truths, archetypes and content via imagination that is living, versus a dry, abstract or intellectual explanation of things. The subjects depend on their age, but also on the season and the coming feast. In a true fairy tale human beings undergo trials and suffering and accept that deeds are a part of proving oneself worthy of the reward at the end of the path, whether the reward is the hand of the princess or a kingdom. They confront evil and overcome it. Folk tales are also important to situate them in their time and place, and help them to understand the culture they live in. We also have the fables, where animals incarnate human values, or legends, that ennoble the human being. The same tale is repeated everyday, for some time, so children can learn them by heart and sometimes could end up being represented by puppets that their teacher has being elaborating in front of them. Through these narratives children learn to listen, they enrich their language and let their imagination fly.
FAMILIES
Families are one of the biggest supports in Waldorf education. This participation at the school life is based on the collaboration between families and teachers, but also on other practical tasks, such as maintenance, the organization of the monthly feasts, the elaboration of toys, and even economic support, making workshops, flea-markets, etc… We should also take into account that we, parents and teachers, are role models for our children, so we must live in harmony, fighting for what we believe and loving what we do.